Ice Cider Valverán 20 Manzanas 2020, made by Masaveu Family Wineries at its cider mill in Sariego in Asturias, has been awarded the Gold Medal and was selected the Best Special Cider at the Internationa "World Cider Awards" 2022
The Contest has nine categories and also gives awards to ice ciders, low-alcohol, alcohol free and experimental ciders, from countries such as Canada, France and United Kingdom, Valverán was the only Spanish cider awarded in this group.
The World Cider Awards, hosted in the United Kingdom, select, award and promote worldwide the "Best Ciders in the World". This annual tasting forms part of the renowned World Drinks Awards, which are presented by TheDrinksReport.com.
Valverán 20 Manzanas has been awarded prizes at several prestigious national and international competitions such as Gilbert & Gaillard, The International Hall of Gala Ciders, the International Wines and Spirits Competition CINVE, the Great Lakes International Cider & Perry Competition and the Global Cider Masters.
Ice Cider Valverán 20 Manzanas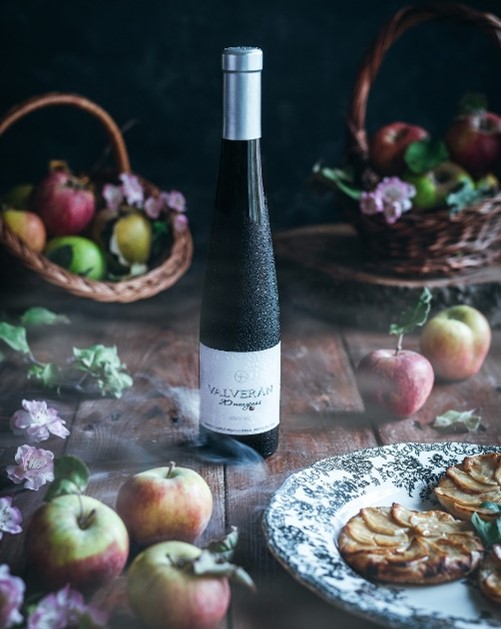 Valveran was founded in 1998, however this first and exclusive ice-cider on the Iberian Peninsula did not emerge until 2007. The name Valverán 20 manzanas comes from the number of apples required to produce each 37.5 cl. bottle, given that the content holds the concentrated must of a minimum of 20 apples.
This drink is obtained through a complex process of freezing at minus 20 degrees, then a 10-month fermentation process and aging on fine lees for 8 months. The entire period is usually around two years from when the apples are harvested until that bottle reaches the final consumer, maintaining the initial fruit and sensory qualities.
To achieve this exclusive and appreciated product, the visionary character of José Masaveu, general director of Masaveu Wineries, was needed, being his most personal project of this member of the family, together with almost ten years of research and trials. It is the only one of the five projects of Masaveu Wineries, which has its roots in its land, Asturias.
The estate currently has 40 hectares of land classifed as organic, situated in the Protected Designation of Origin Cider from Asturias. The land is situated on the El Rebollar estate in Sariego (Asturias), and has 20,000 apple trees with 11 different varietals (Blanquina, Xuanina, Regona, Raxao, Fuentes, Collaos, De la Riega, Verdialona, Perico, Durona de Tresali and San Roqueña) which enable us to produce 20,000 limited edition bottles of this distinguished ice cider that is full of nuances. It can be defined as a fresh and surprising drink that harmonizes perfectly with foie gras, cheeses and slightly sweet desserts.
Purchase at the Masaveu Family Wineries online shop or click here.
Masaveu Wineries
The Masaveu Family first invested in the wine sector in 1974, when they purchased the Murua Winery in Rioja Alavesa. However, the family's first vineyards date back to the middle of the 19th century, in Castellar del Vallés where the family originally comes from and where Federico Masaveu Rivell began a journey to be continued by his descendants one century later.
Since then, Masaveu Family Wineries has grown to become a leader in the sector, due to the quality of their winemaking in several Dos, their sustainable philosophy and their total respect for the land in their estate owned vineyards, thanks to which they transmit the unique personality of each terroir in each and every bottle. All of these factors are common to each and every Project led by Masaveu Family Wineries regions: Fillaboa (DO Rías Baixas), Leda (Wine from the Land of Castilla and León), Murua (DOCa Rioja), Pagos de Araiz (DO Navarra) and Valverán (Asturias).